The patient care services offered by the Best Nephrologist in Lb nagar at Evya include preventive nephrology, acute kidney injury, glomerulonephritis, vasculitis, electrolyte, and acid-base disorders, hypertension, genetic kidney diseases, hemodialysis, renal complications of pregnancy, kidney stone disease, kidney transplantation, chronic kidney disease (CKD), peritoneal dialysis, and bone disorders associated with kidney disease.
We offer a large kidney dialysis service in addition to providing primary care to a large population of patients with end-stage renal disease (ESRD) treated with hemodialysis.
Evya Nephrology Division offers a full range of consultation, diagnostic, and therapeutic services for patients with kidney problems as one of the top nephrology hospitals in Hyderabad with the best Nephrologist in Lb nagar. The range of therapy includes persons with high blood pressure, kidney stones, and other kidney-related issues as well as renal disease in all phases, from the earliest observable changes in kidney function to end-stage kidney disease.
Book your appointment today to get an expert to advise from the best Nephrologist in Lb nagar on the kidney-related disease.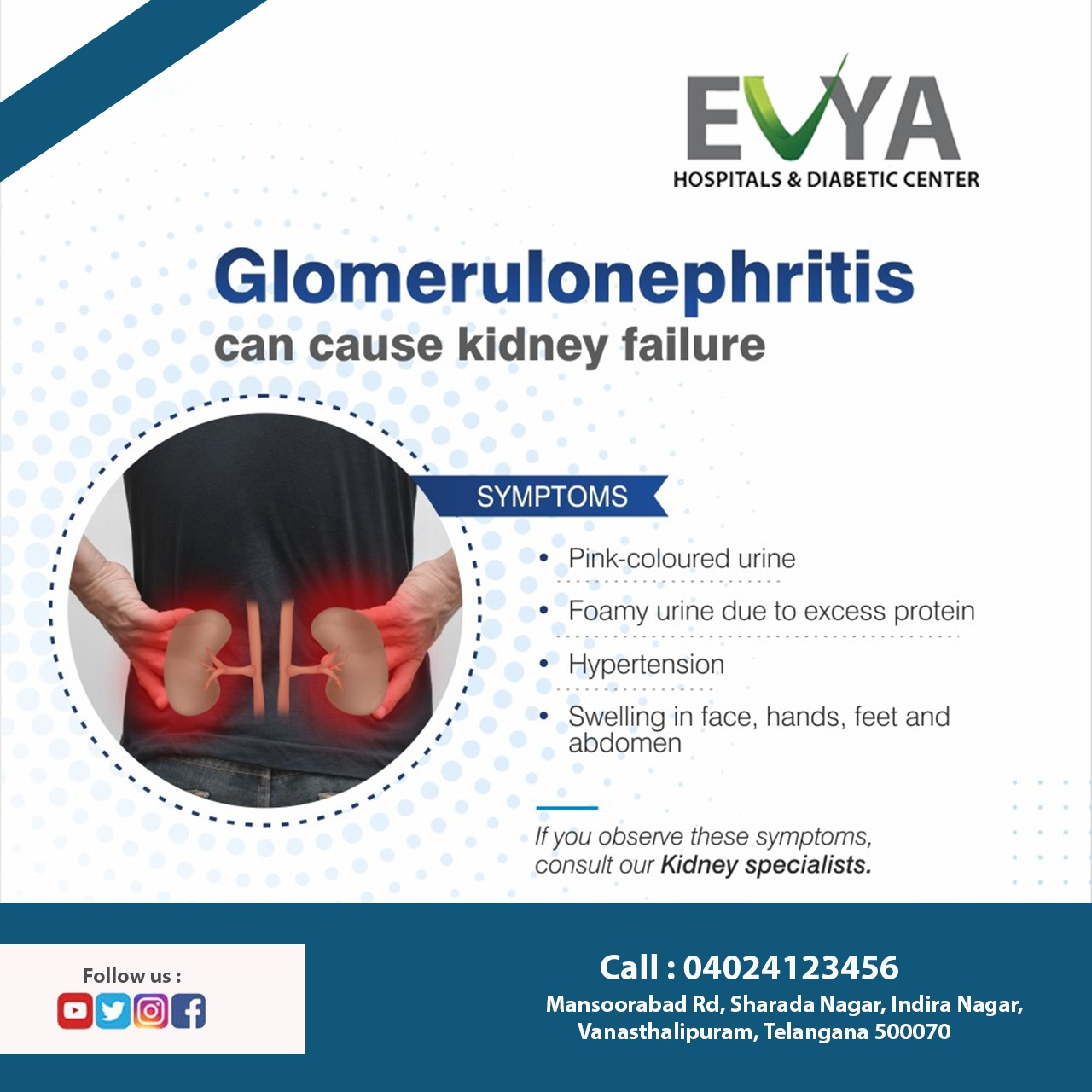 Treatments & Procedures
CHRONIC KIDNEY DISEASE (CKD)
From the first detectable changes in kidney function until end-stage renal disease, patients with chronic kidney disease are assessed. A team of kidney doctors, nurses, dieticians, and social workers oversees their care in order to accurately diagnose and treat disease, with a focus on delaying the onset of complications from CKD and preventing the disease from progressing.
END-STAGE KIDNEY DISEASE (OR END-STAGE RENAL DISEASE – ESRD)
Patients with end-stage renal disease who need their kidney function replaced are monitored and given the proper care. End-stage therapeutic options include home peritoneal dialysis, home hemodialysis, and in-center hemodialysis.
HIGH BLOOD PRESSURE
Blood pressure secondary causes are assessed in patients with high blood pressure. Following are the long-term management and treatment of high blood pressure and its consequences.
KIDNEY TRANSPLANTATION
A renowned hospital for kidney transplants is EVYA. For kidney transplantation, Evya routinely ranks as one of the top transplant programmes in the nation. Doctors that specialise in kidney transplantation offer short-term inpatient treatment and ongoing outpatient care to kidney transplant recipients. Additionally, they aid in the treatment of those who have chronic renal disease and have had heart, lung, or liver transplants.
KIDNEY STONE DISEASE
One of Hyderabad's top multidisciplinary kidney stone clinics is provided by Evya. A referral centre for patients from all across the state and throughout the nation, the integration of medical, surgical, and dietary preventative measures acts as. Members of the Evya division of Nephrology diagnose and treat difficult fluid, electrolyte, and disorder diseases at the outpatient renal clinics.
Technology
Ultrasound
Renal biopsy
Scintigraphy
CT scanning
MAG3
Magnetic Resonance Imaging
Angiography