Best Diabetes Hospital in Hyderabad | Best Diabetes Doctor in Hyderabad
Best diabetes hospital in Hyderabad to get the best treatment for diabetes then Evya Hospital  Diabetic  Center is the best solution for your search. 
Are you suffering from diabetes it's a disease in which sugar level increases or decrease in the blood giving an uneasy feeling, if we neglect the symptoms of diabetes sometimes it may lead to death also so when we feel the symptoms of diabetes it's best to consult the diabetologist near you. It also affects other body parts such as the eyes, kidneys, etc due to denying visiting a diabetes specialist. If you are struggling with diabetes to find the best diabetes doctor in Hyderabad then Evya Hospital is one of the best super multispecialty hospitals where you will get an experienced team and the best treatment for diabetes.
Blood pressure, blood sugar level, and diabetes mellitus are all important factors to consider when treating diabetes. Diabetic patients often need to see a diabetologist in order to get the best care possible. diabetologist in hyderabad treat diabetes by working to control blood sugar levels and improve overall health. They also work with patients to ensure that they are following a healthy lifestyle and managing their diabetes.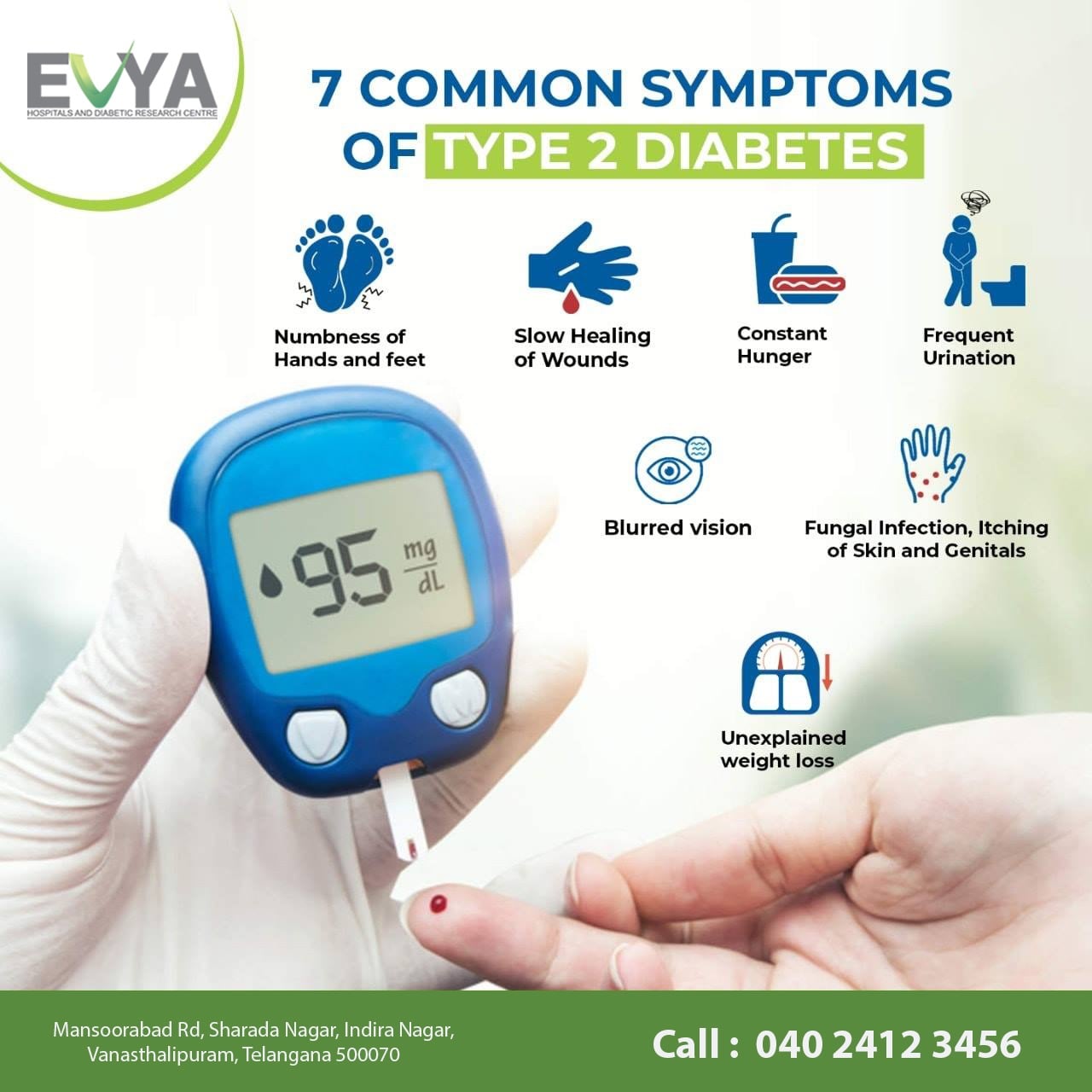 BEST DIABETES HOSPITAL IN HYDERABAD FOR TYPE 1 AND TYPE 2 DIABETES TREATMENT HOSPITAL
Evya Hospital and diabetic research center is the best diabetes hospital in Hyderabad offering the best type 1 and type 2 diabetes treatment and care for diabetes-related conditions with the best diabetes doctors in Hyderabad. Evya hospital today is recognized for its advanced treatment and diabetic care.
Symptoms of diabetes
Delayed healing of wounds, Abrupt and rapid weight loss, Blurred vision, Excessive hunger.
Causes of diabetes
Taking certain medicines, Family history of diabetes, Being pregnant, Increasing age, obesity
Best Diabetes Doctor in Hyderabad
At evya hospital we have the Best Diabetes Doctor in Hyderabad, who are Specialized in diabetes complications, type 1 diabetes & type 2 diabetes, thyroid disorders, and more.
Are you experiencing excessive thirst and hunger, or are you undergoing continuous weight loss or gain? If so, then it can be diabetes which reduces the ability of the body to produce blood glucose which can be a cause for further complications related to various body parts. Evya hospital is the best diabetes hospital in Hyderabad treated properly with great care then it can effectively reduce the risk of severity and complications. If you are also going through the same then Evya Hospitals  Diabetic  Center is a one-stop solution for you where we serve you with the best team of professionals diabetes doctors who have gained expertise in the relevant sector of the medical world and have created a benchmark in treating worst-case and returning patients back to a healthy life. Contact our expert diabetologists now to book your appointment with Best Diabetes Doctor In Hyderabad. Evya Hospital emergency services are available 24/7. To book an appointment please call us at 040-24123456.
Frequently Asked Questions 
Who is a diabetologist?
In order to treat patients with diabetes and its consequences, endocrinologists with additional training in metabolic diseases are known as diabetologists.
Which is the Best Diabetes Hospital in Hyderabad?
Evya Hospital is the best diabetes hospital in Hyderabad, We have Experienced Team of Endocrinologists and Diabetologists.
What are the early signs of diabetes?
Some of the symptoms of type 1 and type 2 diabetes are:
Urinating often.
Feeling more thirsty than usual.
Losing weight without trying.
Presence of ketones in the urine.
Feeling tired and weak.
Having slow-healing sores.
Having blurry vision.
Feeling irritable or having other mood changes.
Who is the Best Diabetes Doctor in Hyderabad?
Dr.Mallikarjuna Rao, MD is the best diabetes Doctor in Hyderabad, Specialized in type 1 diabetes, and type 2 diabetes, diabetes complications, thyroid disorders, and more.