Best Neurosurgeon in LB Nagar
Evya Hospital is the best Neurology Hospital we have the Best neurosurgeon in lb nagar offers comprehensive assessment and Neurology services for a wide range of conditions like Spinal Disorders, Brain Haemorrhage, Stroke, Neuro-disorders, Backache, Epilepsy, and other Neurological problems. The state-of-the-art neuro-diagnostic services available at Evya Hospital include EMG, EEG, NCV, and others. For the most difficult neurological disorders and essential neurosurgical conditions, our neurosurgeon in lb nagar provide accurate diagnosis and treatment.
Evya hospital has the best Neurosurgeon in LB Nagar, Neurology a branch of medicine dealing with problems of the nervous system. Neurologists deals with the diagnosis and treatments of all conditions and disease involving the central nervous system and peripheral nervous systems, including their coverings, blood vessels, and every one effector tissue, such as muscle.
Symptoms of Neurological problems
Partial paralysis or complete
paralysis.
Muscle weakness.
Seizures.
Difficulty reading and writing.
Poor cognitive abilities.
Unexplained ache.
Decreased alertness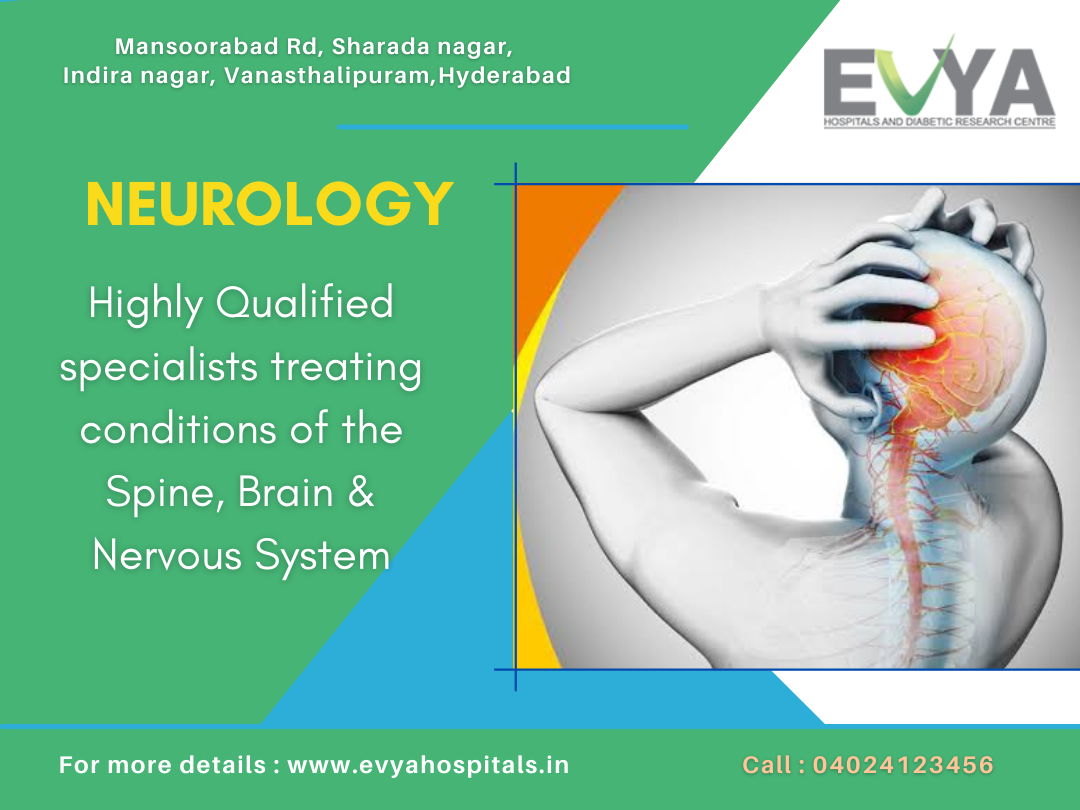 Evya hospital is one of the best hospital with the Best neurosurgeon in LB Nagar to serve you with the most effective treatment. We serve you with the best treatments of various disorders, such as vascular disorders, infections of the brain or spine, congenital anomalies, trauma, tumors, stroke, or degenerative diseases of the spine. If you are also struggling with any of the above listed issues then contact our experts and get rid of your issues.
Few of the most common neurological disorders are listed below:
Parkinson's disease:
It is a neurological disease which affects movement of body. This disease starts with a tremor in a hand which is noticeable and its progression slowdowns your body movement. Symptoms of such disease are shivering in limbs, hands or fingers. Muscles will become stiff reducing your body movements. One more symptom which is highly noticeable is speech change. These kinds of disorders are not cured absolutely but its symptoms can be reduced using medications recommended by best neurosurgeon in vanasthalipuram, LB Nagar, such as carbidopa-levodopa, Dopamine agonists, etc.
Epilepsy:
It is one of the neurological disorders which make brain abnormal and is responsible for unusual behavior of a folk. Symptoms of epilepsy may vary based on other health conditions and genetic effects. Major symptoms are Loss of consciousness or awareness, Temporary confusion, and so on. Diagnosis of such disorders is done by neurological exams and blood tests such as Electroencephalogram (EEG), High-density EEG, Computerized tomography (CT) scan, Magnetic resonance imaging (MRI), etc. With the help of few medications and surgeries such neurological disorders can be treated by the neurosurgeon in vanasthalipuram, LB Nagar.

To overcome all the neurology disorders Evya Hospital consists of best neurologists and treatment provided by neurologists during first visit, you will be scanned by our staff, who will ask you about your medical history and your symptoms. One of our physicians will perform a focused neurological diagnosis. After reviewing your medical history and complete diagnosis , you will be presented with a number of treatment options. Treatment for all disorders of neurological problems at one stop Evya hospitals. Compared to the best neurologists in Hyderabad Evya consists of Best Neurologists and treatment by doctors in these hospital makes the patients happy and recover soon who are facing the neurological problems.