With the advent of the pandemic, the world has realized how important it is to find the best treatment. From the best multispeciality hospital in Hyderabad, the patient can have the best treatment. On the other hand, with the high rush of corona patients, many patients are unable to access other severe medical treatment. Many patients could not reach or avail the required medical treatment in fear of getting infected by this fatal disease.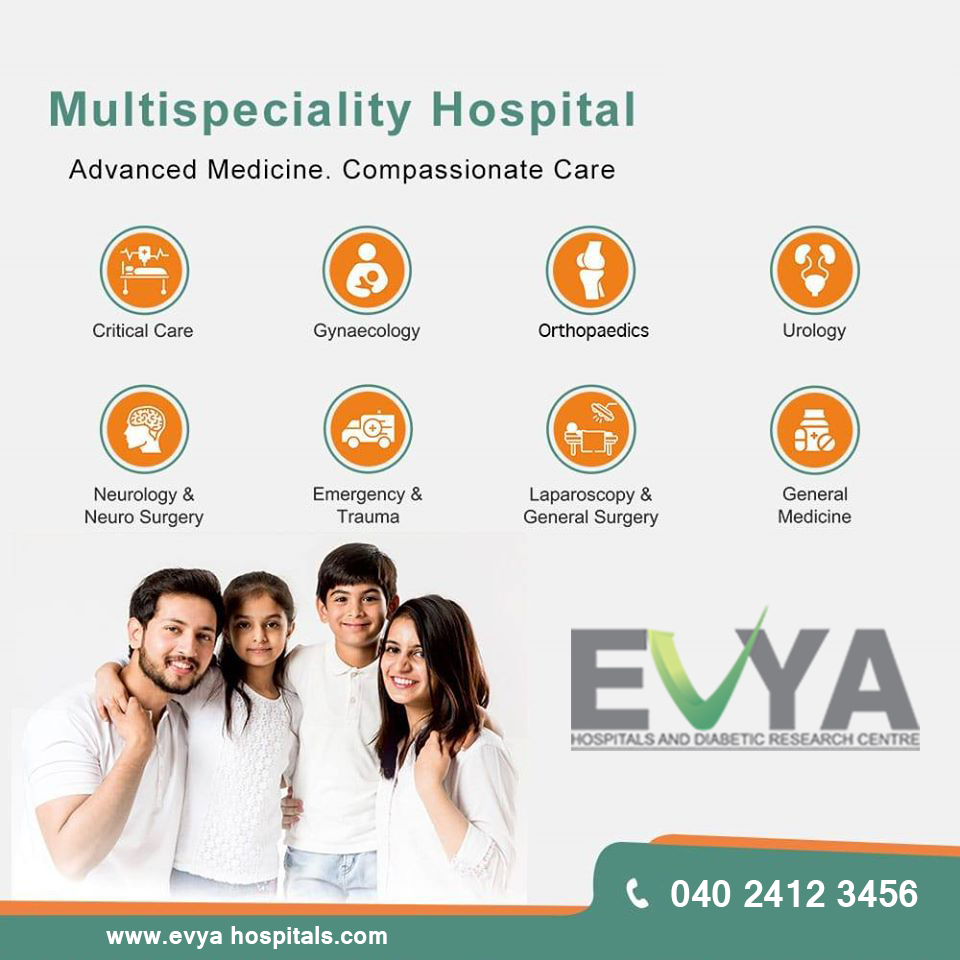 Amidst the worst pandemic in the history of the century, it is essential to understand the healthcare system more than ever. There are various multispeciality hospitals and health care centers all around us. With emerging cases of various ailments, it is not feasible to keep going to different locations for different medical treatments. Due to the sedentary lifestyle, there are many new diseases that have become relevant to everyone, and they require multi specialists.
How to find the best multispeciality hospital in Hyderabad?
The best part of multispeciality hospitals is, patients can have all specialist doctors within one single framework. Moreover, every patient wants to have the best treatment from specialized doctors. Evya Hospitals is a renowned medical care centre where the best doctors are appointed to treat them with personalized care. 
Why choose Evya hospitals as your medical partner? 
Cardiac care
Evya Hospitals and Diabetic Research Center are one of the most renowned Cardiology Hospitals to treat critical cardiac issues and bring those patients back to their normal life. Here we have the best cardiologists to treat patients and have gained expertise in heart transplantation, surgeries and interventions, and other heart-related treatments.
Diabetes care
Evya Hospitals Diabetic Center is the best multispeciality hospital. We have the best team of professional diabetes doctors with potential experience in the relevant sectors of the medical world and have found a solid benchmark in treating worst-case and getting back the patients to a healthy life. Contact our expert diabetologists now to book your appointment with the Best Diabetes Doctor in Hyderabad. Our emergency services are available 24/7. 
General Physician
Consult the best general physician in Hyderabad. We have a team of experienced general physicians with more than ten years of experience. Our patient's care unit is driven by the motivation of serving the best medical advice at an affordable charge. 
Dental care
Evya Hospital has a group of specialists in tackling dental issues, and we have the best Dentist in Lb Nagar. We invite you to our Dental Services – LB Nagar, Hyderabad. A best in the class dental care that offers a full range of dental services. This is the reason we treat all patients with the most extreme consideration. Check our best dentist in LB Nagar, Hyderabad, at Evya hospitals
Gynecologist
Women's health must be taken into significant consideration at every stage of life. To serve the solution of every health-related issue of women, evya hospitals is the best Gynecology Hospital in Vanasthalipuram we have a team of the best gynaecology doctors in vanasthalipuram and zeal to promote women's good health.
Gastroenterology
Our surgical gastroenterologists are extensively talented and prepared in the part of endoscopy, which helps us to treat the patients with the best treatment. In addition, our gastroenterologists are all around prepared to perform advanced treatment methods, which helped us to monitor a large amount within a concise period. 
Neurology
Neurologists deal with the diagnosis and treatments of all conditions and diseases involving the central nervous system and peripheral nervous systems, including their covering, blood vessels, and every effect or tissue, such as muscle.
Orthopaedics
We are the leaders in offering personalized orthopaedic look after conditions related to back pain, neck pain, and joint pains of the knee and so on. Our orthopedists are committed to delivering the very best quality of diagnostic and therapeutic patient care to people of all age groups for orthopaedic pain relief. Evya offers the foremost comprehensive healthcare systems and virtually all of the best, latest treatments, technologies and services available. Our team consists of reputed surgeons, medical & rehabilitative specialists, and occupational and physical therapists.
Nephrology & Dialysis
Kidney disease affects your body gradually, and its symptoms are also not that noticeable most of the time. We have the best team of nephrologists who are highly skilled and experienced in the care and treatment of various kidney diseases. Our doctors have been serving this medical sector for more than a decade, which makes our hospital one of the most appropriate options to offer the best treatment.
Under the guidance and supervision of Best general physician Dr Mallikarjuna Rao, Dr Mallikarjuna Rao, Evya Hospital stands as a multispeciality hospital in Hyderabad. Whether it's a general health check-up or an emergency, we are always present to deliver the best treatment to all patients.