Evya Hospital best diabetes hospital in Hyderabad, Diabetes is a constantly increasing problem that affects both the younger ones and older adults. The cause of diabetes usually depends on the people's hormonal balance. 
The department of diabetes and endocrinology at Evya Hospital, best diabetes hospital in Hyderabad, is staffed by experienced health professionals. Our best diabetes doctor in Hyderabad has been in practise for more than ten years.
Understanding Diabetes:
Diabetes is a disorder brought on by either an excess or insufficiency of the pancreatic fluid known as insulin. Insulin is in charge of metabolising the food and turning it into energy. When there is a problem with the hormone's synthesis, the sugars in meals do not break down effectively, and the blood's levels of glucose and sugar either go down or up. The field of medicine known as diabetes and endocrinology deals with the identification and management of endocrine system hormonal abnormalities.
Diabetes is of two types:
Type 1 – This variety, which is becoming increasingly prevalent in young people, is the one in which there is little to no insulin production. It is also the form of diabetes that is more severe than the other two. When an individual's immune system unintentionally targets the pancreatic cells that produce insulin, type 1 diabetes develops.
Type 2 – In this form of diabetes, the body develops an insulin resistance, generating an abundance of insulin but having trouble using it. With a change in lifestyle, type 2 diabetes can be controlled. Type 2 diabetes can be effectively managed by following a healthy diet, an active lifestyle, and regular exercise. In addition to the two forms, diabetes can transiently affect expectant mothers. Gestational diabetes is the term for it. It happens when the pregnant woman is unable to generate the necessary quantity of insulin for the baby's sustenance.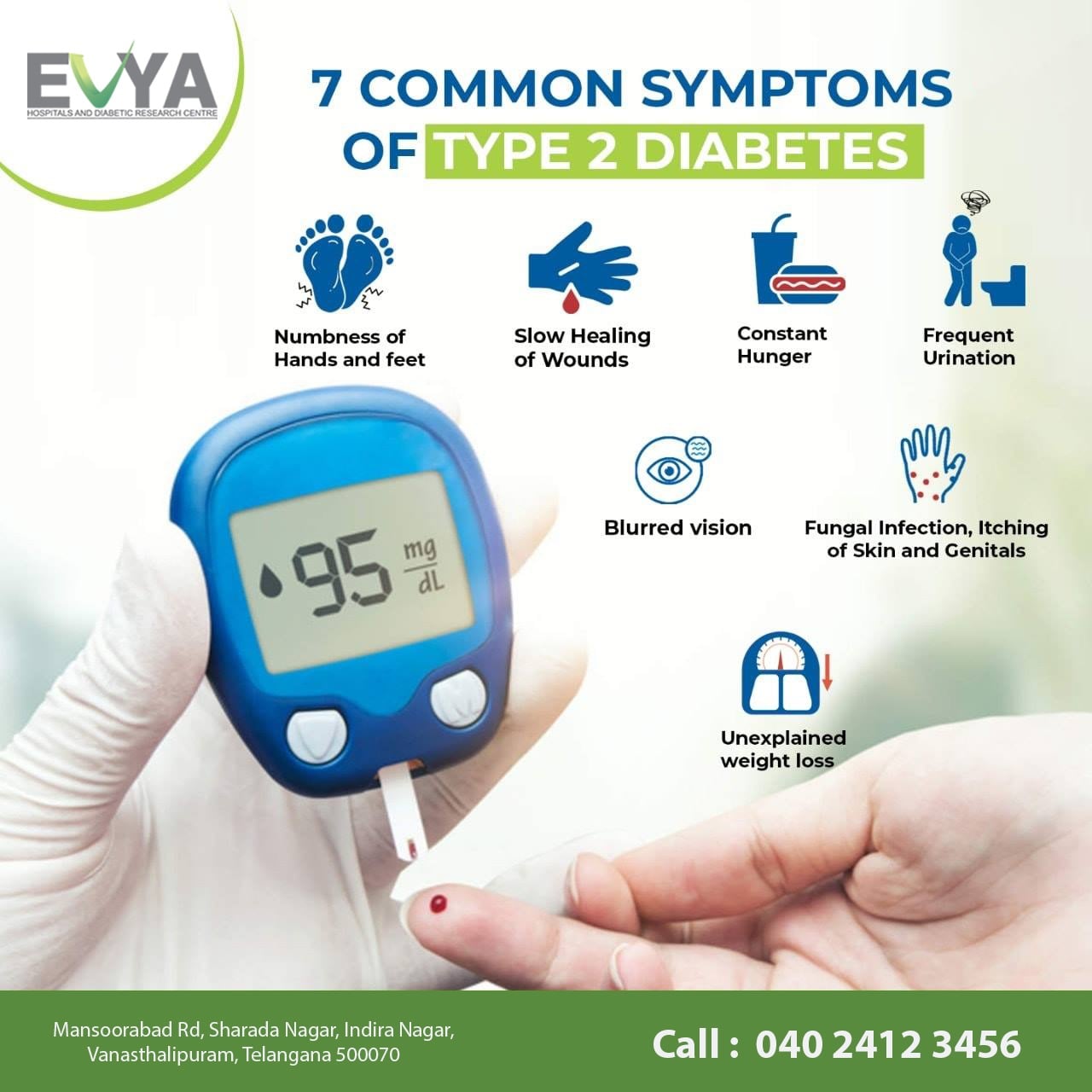 Diabetes and Endocrinology Department – Evya Hospitals:
Our diabetic experts collaborate with skilled dietitians and nutritionists at EvyaHospital, the top diabetes hospital in Hyderabad, to create a patient-centered diet plan. We aim to deliver the finest outcomes with the treatments we give, and we are recognised as one of the best diabetes hospital in Hyderabad.
Department Of Endocrinology:
Endocrinology is a scientific and medical field that focuses specifically on hormones and uses a multidisciplinary approach to comprehend hormones and disorders associated with them. Endocrine disorders can be categorised broadly into three groups: abnormal hormone tissue response, over- or underproduction of hormones, and malignancies originating from endocrine tissue.
The Department of Endocrinology has expertise in treating diseases such secondary hypertension, hirsutism hypoganadism, and paediatric ailments like growth and puberty in addition to common conditions like diabetes, thyroid disease, and obesity. We have "state-of-the-art facilities" for treating with thyroid and diabetes issues. Now schedule an appointment with Hyderabad's finest endocrinologist at best diabetes hospital in Hyderabad.