The aspects of diabetes care are changing due to the increasing incidence of diabetes, an ageing population with multiple conditions, changing patient expectations, as well as the creation of new treatments and remedies.
The best diabetes doctor in Hyderabad is now at Evya hospital, where we are committed to providing state-of-the-art diabetology treatments, including early detection technologies, diabetic patient education (awareness and counselling), and the most effective treatment procedures.
For people who are diabetic to have access to the wide range of diabetes skills and expertise, Evya hospital recognises the need for local services and must have a focus on quality care and effectiveness. Our dedicated and highly qualified Best diabetes doctor in Hyderabad and diabetic specialists offer greater comprehensive diabetes care, including much of the ongoing support for many diabetics.
 Our multidisciplinary specialist diabetes team, which includes doctors, dieticians with experience in diabetes, and nurses, aims to be the centre and voice of high-quality treatment for everybody. We provide patient-centered care because we think that people who have diabetes should be empowered to make whatever lifestyle adjustments necessary and, whenever practical, given the opportunities to take care of themselves.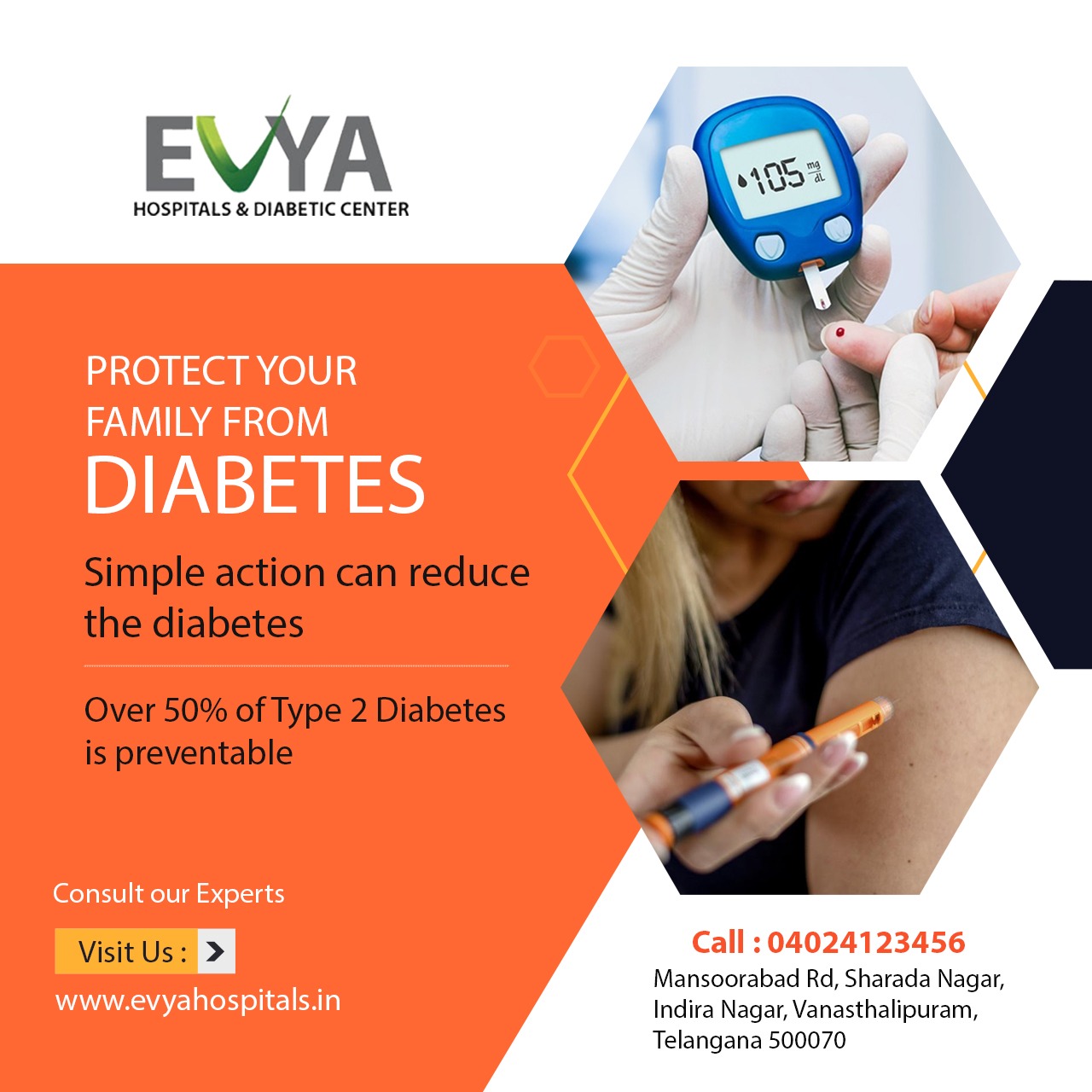 Treatments & Procedures by our best diabetes doctor in Hyderabad
Before referring patients back to their general healthcare doctors for ongoing care, we want to promote them to obtain early speciality care and education to get them started treating their diabetes.
Amputation rate among diabetic patients are high because of inadequate foot care and barefoot walking, especially among the poor, as diabetes more frequently affects the nerves and blood vessels of the foot, which can lead to foot ulcers and ultimately amputation. In addition to educating patients about basic foot care, we regularly check patients using methods like the Bio-thesiometer and Doppler to detect for neuropathy and peripheral vascular disease.
Wound treatment and ulcer management are managed by experienced plastic surgery specialists. We also regularly screen for additional diabetes problems such retinopathy, amyotrophy, diabetic gastroparesis, and nephropathy.
Moreover, we offer diabetes podiatry procedures to prevent foot ulcers from developing. The feet are taken care of by having the nails cut, getting corns and calluses removed, etc. The podiatry service is managed by a male nurse with podiatric expertise.
In order to start the appropriate treatment, patients with diabetes are routinely screened for cardiac disease using baseline ECG and serum cholesterol.
We can do biochemical tests like lipid profiles, apo proton studies, blood sugar measurement, etc. since we have a lab that is open twenty-four hours a day.
We provide training and start for insulin pumps as well as diagnostic continuous glucose monitoring evaluations. Our Diabetology Department may provide comprehensive, intense care for patients with Type 2 diabetes, difficult-to-control diabetes, or high-risk diabetes (such as diabetics who have recently had a heart attack or had bypass surgery).
In the ICCU, we handle diabetic emergencies. Diabetes patients must have their blood sugar levels constantly checked, particularly if they want to become pregnant or are already having a child.
Podoscopy
ECG
HCP Study
Echo and Cardiac Autonomic Neuropathy Screening
Biothesiometry
Doppler and ABI Measurement
Thyroid Biopsy
Filament testing
Micro Albuminuria Renal Function Tests
Renal Ultrasonography
Hormone Testing
Fundoscopy